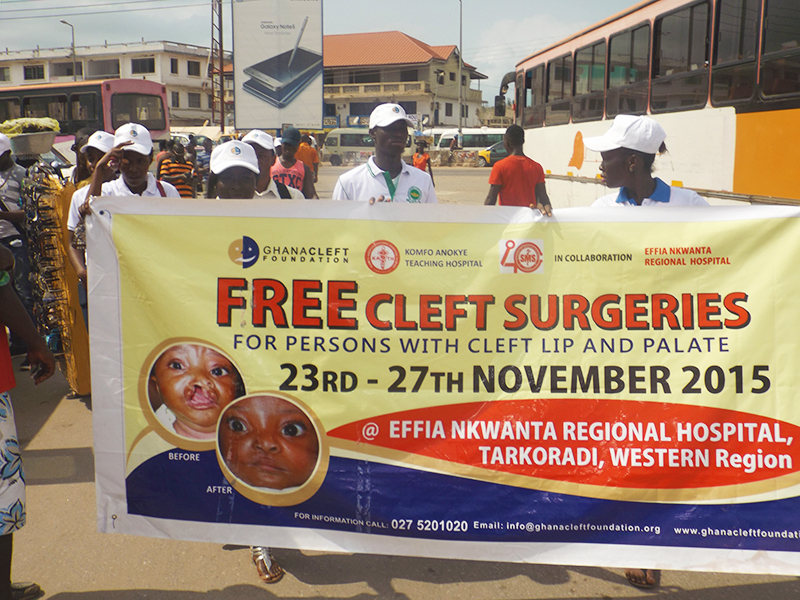 The Ghana Cleft Foundation (GCF)in collaboration with the Komfo Anokye Teaching Hospital (KATH), School of Medical Sciences (SMS), KNUST, and the EffiaNkwanta Regional Hospital (ENRH), Takoradi organized a free cleft surgical outreach from the 23rd-27th November, 2015 at EffiaNkwanta Regional Hospital. A ten man team made up of three surgeons, two anesthesiologists, three nurses, one nutrionist and one social worker led the outreach.
Age, Sex and Diagnosis of Patients
A total of fifteen (15) patients were screenedseen during the outreach, made up of seven (7) males and eight (8) females. The oldest patient was forty eight (48) years and the youngest was ten(10) weeks old. Of the patients twelve (12) had various clefts while three (3) had non-cleft conditions. Eleven (11) of the patients were considered suitable for surgery and underwent operative treatment. TheTotal number of surgeries done was eleven (11) out of which cleft surgeries were nine (9) and non-cleft cases were two (2).